Yard Cleanup Service in New Smyrna Beach, Port Orange, Ponce Inlet & Surrounding Areas in Florida
We'll mow your lawn, reshape your landscape beds, trim your plants, pick up debris, and clean your gutters.
It's always nice to have a beautiful, well-maintained yard. So, if it looks anything less than pristine and manicured, it's time to schedule our yard cleanup service! Our team at Leafy Landscapes will rejuvenate the appearance of your property by mowing your lawn, reshaping your landscape beds, trimming your plants, picking up debris, and cleaning your gutters. You can schedule this service anytime throughout the year when your yard needs some sprucing up. We offer our yard cleanups to residential properties in New Smyrna Beach, Port Orange, Ponce Inlet, FL, and surrounding areas.
---
What is included in our yard cleanup service?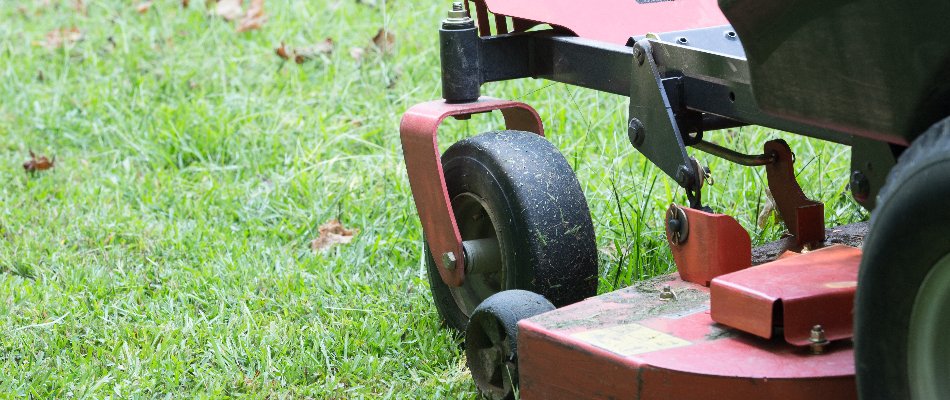 If your yard is starting to look unkempt, then our yard cleanup service is just what you need. We have designed this service to include everything it needs to look pristine and manicured again! When you sign up, we will perform the following tasks:
Lawn Mowing: Our crew will mow your grass to ensure it looks lush and manicured. We keep our equipment well-maintained so that you can rest assured our lawn mowers will create clean cuts on the grass blades for a uniform look and to prevent stressing out your turf.
Landscape Bed Reshaping: We will reshape your landscape beds to restore their refined edges and highlight their beautiful shape. This will give them a nice, tidy look that will boost your home's curb appeal.
Plant Trimming: Part of our yard cleanups is trimming your plants to remove overgrown branches and foliage that are making them look messy. We'll carefully cut away these unruly limbs and give your plants a beautiful shape.
Debris Cleanup: Our team will remove debris like sticks, twigs, and leaves from your lawn and landscape beds to ensure they don't look cluttered. These pieces of debris can also block essential resources from reaching them, but we'll make sure this doesn't happen!
Gutter Cleaning: It's easy to overlook your gutters, but our team doesn't! We will remove any debris built up in your gutters to keep them from becoming clogged and not working properly. This is also crucial to avoid attracting pests or creating an environment conducive for fungal diseases to fester!
You can pair our
mulch installation service
with our yard cleanups to enhance the aesthetic of your landscape beds and keep your plants healthy!
---
When can you schedule our yard cleanups?
We know yards can quickly become messy and cluttered no matter the time of year. That's why we offer our yard cleanup service throughout the year! Whether you need us to tidy up your lawn and landscape in the spring to ensure your property looks nice at the start of the new growing season or want to give it a facelift in the fall, we will be there. By offering year-round access to this service, you can conveniently call us to book it whenever you want to revitalize your yard.
---
Call us today to book our yard cleanup service!
Our team at Leafy Landscapes offers our yard cleanup service to residential properties in New Smyrna Beach, Port Orange, Ponce Inlet, FL, and surrounding communities. We will help ensure your yard looks neat and beautiful by keeping your grass lush and your landscape pristine. With 16 years of experience under our belt, you can rest assured your yard is in good hands with us. Call us today at (386) 492-8862 to book our yard cleanup service.