Landscaping Services in New Smyrna Beach, Port Orange, Ponce Inlet, FL & Surrounding Cities
We offer landscape lighting, sod installation, plantings and softscapes, and more.
If you want to take your landscape to new heights, you've come to the right place! At Leafy Landscapes, we offer a wide variety of landscaping services to residential properties in New Smyrna Beach, Port Orange, Ponce Inlet, FL, and surrounding areas. Our services include everything from landscape lighting and sod installation to plantings and softscapes, plus much more. Give us a call today at (386) 492-8862 to schedule any of our landscaping services.
---
Plantings & Softscapes
If you want to install new landscape beds or renovate your existing ones for a fresh look, we can help with our plantings and softscapes service. We can also fill them with beautiful plants and palm trees that thrive in our climate in the New Smyrna Beach, FL, area!
---
Annual Flowers
Add pops of color to your landscape with our annual flower installation service! We can install colorful annuals to create a beautiful seasonal display and boost your property's curb appeal, including dianthus, marigold, coleus, and more.
---
Landscape Design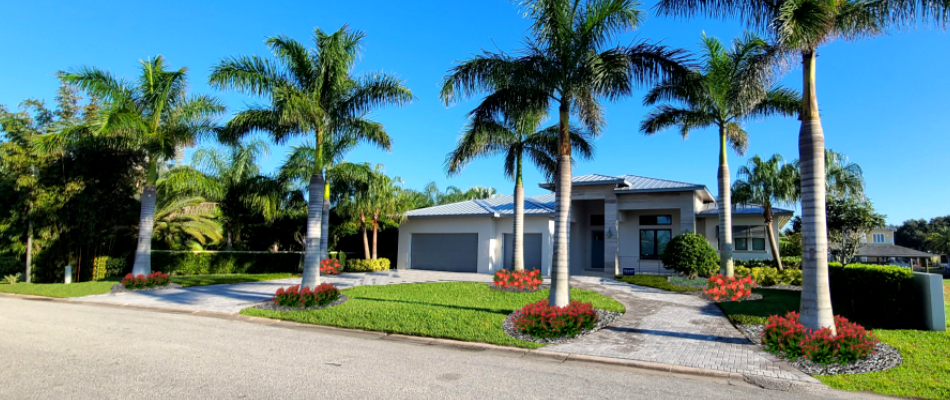 We offer a landscape design service where our team can create a 2D or 3D rendering so you can see how your project will look before installation begins! While our 2D designs provide a top-down view and general understanding of its layout, our 3D renderings create a more realistic, comprehensive depiction that you can see from different angles.
---
Landscape Lighting
Illuminate your outdoor living space with our landscape lighting service. Our team can install low-voltage LED lights that are energy-efficient, long-lasting, and durable against the elements. What's more, they're Bluetooth compatible, meaning you can control them from your smartphone!
Not only can we install landscape lighting displays, but we can also perform repairs!
---
Sod Installation
Get a new, beautiful lawn instantly with our sod installation service. We follow a thorough process when installing sod to ensure we do it correctly so it looks great. This process involves removing any old grass and debris, smoothing out the surface, laying the sod, and using a roller to press it down so it has good contact with the soil.
---
Irrigation Repairs
Your irrigation system is responsible for keeping your grass and plants hydrated, so it's crucial that it works properly. If it isn't functioning correctly, look no further than our irrigation repair service! We can fix anything from broken sprinkler heads and lines to faulty timers and malfunctioning sensors.
---
Landscape Bed Weed Control
Weeds steal nutrients and space from your plants, but we can keep them from hindering their health and beauty with our landscape bed weed control service. This service involves utilizing herbicides and hand-pulling methods to efficiently and effectively keep your softscapes weed-free.
---
Holiday Lighting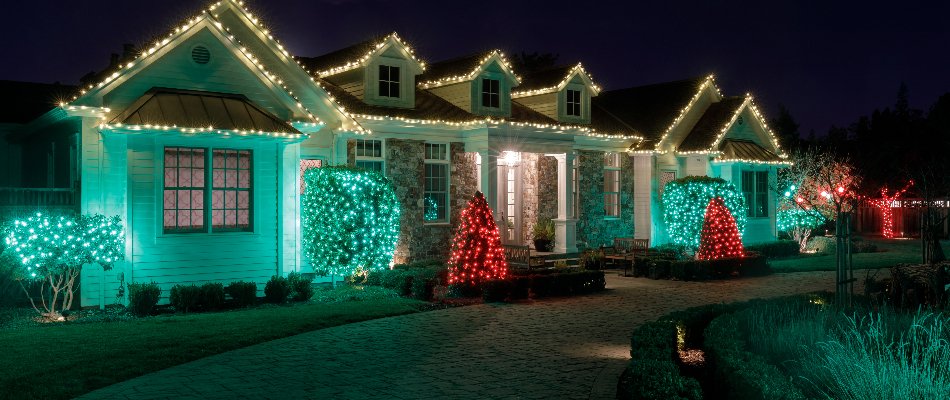 If you want to say goodbye to decorating your home for the holidays and enjoy a stress-free season, then our holiday lighting service is just what you need! Our team starts installations on November 1st, and once the season ends, we'll remove and store them so you don't have to worry about anything.
We can install other decorations, like wreaths, as an add-on to our holiday lighting service!
---
Paver Repairs
Keeping your pavers in tip-top shape is crucial to maintain longevity and durability. Fortunately, we offer a paver repair service to do just that and rectify any issues! Our crew can fix uneven pavers, an irrigation break underneath them, and more.
---
Drainage & Grading
If you want to redirect water away from your home's foundation and remedy flooding problems, then our drainage and grading service is just what you need. We can grade your land to keep water from pooling and damaging the foundation, plus install drainage solutions to give it somewhere to go, including downspouts, French drains, and more.
---
Call us today to sign up for our landscaping services!
Are you ready to transform your property? If so, we're here to help. At Leafy Landscapes, we offer our landscaping services to residential property owners in New Smyrna Beach, Port Orange, Ponce Inlet, and nearby areas in Florida. Call us today at (386) 492-8862 to sign up for any of our services.