Aeration Service in New Smyrna Beach, Port Orange, Ponce Inlet, FL & Surrounding Cities
We offer core aeration in the spring and fall seasons.
Compacted soil is natural, but it hinders your turf's ability to absorb vital resources and nutrients. Fortunately, our aeration service is just what you need to remedy that! Our team at Leafy Landscapes will perform core aeration, which involves pulling up small plugs of soil to loosen compaction and help resources easily reach the roots of your grass. We can do this in the spring and fall seasons, as these are the best times to ensure your lawn can withstand the process. What's more, we do a double-pass, meaning we go over it twice with our aerator to pull up double the soil cores and yield even better results!
We offer our aeration service to residential properties in New Smyrna Beach, Port Orange, Ponce Inlet, FL, and other nearby areas.
---
What kind of aeration do we offer?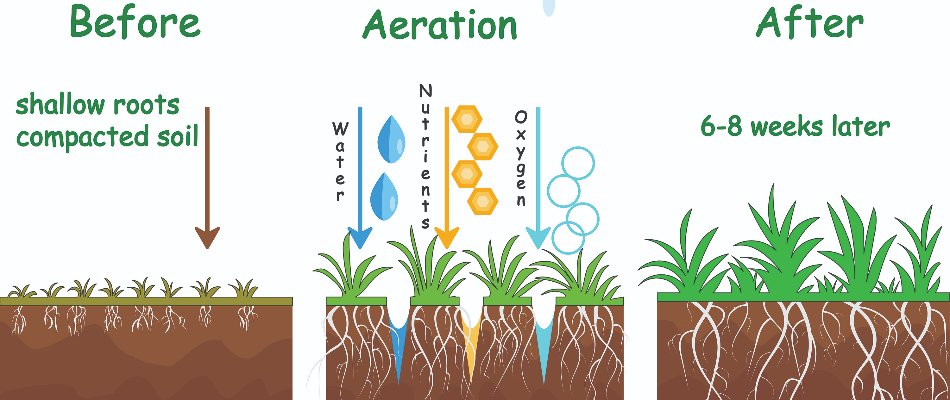 We strive to get your lawn to its absolute best so it can thrive year after year, and we do that with core aeration. We offer this kind of aeration because it's highly effective at loosening compacted soil and making it easier for resources to reach the roots of your grass. To do this, our team will pull up plugs of soil using an aerator, which creates tiny holes in the surface that act as passageways. These passageways are just what nutrients and other resources need to supply your turf at its roots. Then, we'll leave the soil cores on your lawn afterward to break down; as they decompose, they return nutrients to it.
---
We Perform Our Aeration Service in the Spring & Fall Seasons
Aeration is highly beneficial for your lawn, but we want to perform it at the right time to ensure it can withstand the process and recover quickly afterward. Because of this, we offer our aeration service in the spring and fall seasons. The most common months when we perform it during the spring are March, April, and May, as the temperatures are not yet sweltering and your lawn is strong enough.
On the other hand, September to November are the best times to core aerate your lawn in the fall. After all, temperatures are starting to cool down, and your grass won't have the stress of the hot summer season to worry about. So, it can withstand this process and be at its best in preparation for winter dormancy, giving it an increased chance of quickly bouncing back come next spring.
We recommend scheduling our aeration service at least once a year, though twice is best to ensure your lawn always has optimal access to everything it needs.
---
We perform a double-pass when aerating your lawn to pull up twice as many soil cores.
We want to yield only the best results from our core aeration service for your lawn, and we perform a double-pass to do just that. This involves going over your turf twice with our aerator machine to pull up double the soil cores and create more passageways for nutrients to reach its roots. That way, it has even better access to everything it needs to thrive!
---
Call Us to Sign Up for Our Aeration Service Today
If you want to set up your lawn for long-standing success, look no further than our aeration service! At Leafy Landscapes, we proudly serve residential property owners in New Smyrna Beach, Port Orange, Ponce Inlet, and other surrounding areas in Florida. When you work with us, you can trust that we'll do right by your turf and ensure you can boast the healthiest, most beautiful one on the block! Give us a call at (386) 492-8862 to sign up for our aeration service today.